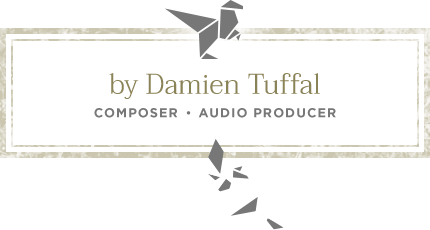 Videos
Music and sound creations
for films
Audio
From musical production
to post-production
Music production
Dans le Corps d'un Autre
(Latapie/Rubio/Neau)
Nelson Mandela
(Raouf/Rubio)
Ma Meilleure Amie
(Sam/Rubio)
Mastering
PLK promotion album Polak
(Spot Skyrock)
Jeremy Kapone promotion single
(Spot radio RTL2)
Therapie Taxi
(Spot Spotify)
Winston McAnuff & Fixi - Wagram Music
(Spot Deezer)
La Foir'Fouille Ducos
(Spot Radio)
JuniorDays.ch
(Spot radio)
Audio restauration/cleaning
Soft clean before/after
(Carrefour Portail Market)
Medium clean before/after
(Eiffage/SNCF)
Heavy clean before/after
(Alchimie interview)
Services
What
I do
Audio producer and composer, with a studio near Paris, I welcome and help production companies, creators, brands, corporates and musicians in the development of their sound communication.
Musical creations, branding, soundtracks, sound design, I produce any audio project.
I am also covering the whole post production stage, from voiceover recording to mixing and mastering.
Oh and you can contact me at this number +33 6 23 84 52 08 or by the contact form below.
AUDIO CREATION

Brand content
Television, Cinema, Radio & Digital
Corporate & Events
Phone
Video game
RECORDING

Voiceover
Dubbing
Vocal
Instrument
Voice casting
POSTPRODUCTION

Mixing
Mastering: TV standard, Spotify, Deezer, Youtube, radio, music album etc.
Audio restauration/cleaning
Syncing audio to picture